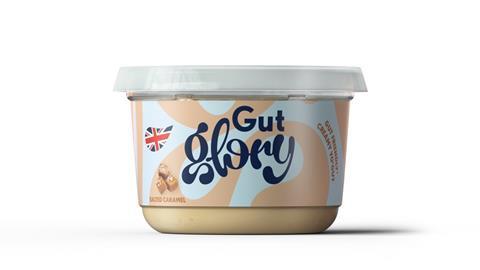 Müller has launched a new gut-health yogurt brand.
Gut Glory contains gut friendly cultures, is a source of calcium and is made in Shropshire, England, using milk from British farms.
The Gut Glory range will be available in two pack sizes - the 450g pot RRP is £1.80 and the four pack 125g RRP is £2.25, the 450g pot comes in Salted Caramel and Strawberry with fibre while the four-pack comes in Strawberry, Rhubarb and Peach & Mango with fibre.
Initially available in Asda, the new range will be available in the coming months. The launch will be supported by a disruptive and tongue-in-cheek multimedia marketing campaign, which will include online advertising, social media, outdoor and in-store media and PR.
Strategy and marketing director at Müller Yogurt & Desserts Michael Inpong said: "We have seen a natural move towards increased awareness and concern for health, which would explain the growth we are seeing in the digestive health yogurt segment.
"Müller is the nation's favourite dairy brand, it is the category leader and is much-loved and trusted. But that does not give us the automatic right to win in every segment, and in this case, we identified demand, and a unique growth opportunity to introduce an exciting and contemporary new gut-health brand.
"With a bold and irreverent brand, and a 450g big pot option, we believe we have a distinctive proposition that will resonate with shoppers. It doesn't place an emphasis on the complicated science behind gut health, it is deliciously creamy, gut friendly and a really exciting milestone for the business."