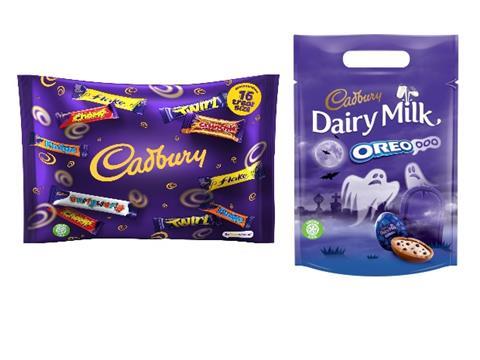 Mondelēz International has launched a raft of themed confectionery for the Halloween season.
According to Nielsen data, confectionery sales over the Halloween period in 2019 reached £48m, with Mondelēz recommending retailers stock up on share size packs.
This year sees the return of Cadbury Goo Heads, available in Creepy Skeleton, Pumpkin, Frankenstein, Dracula or Werewolf variants. The Cadbury Goo Heads are available individually or in a pack of five.
The portfolio taps into the popularity of chew products which saw a 7.2% value growth in 2019, with the return of Maynards Bassetts Dead Chewy.
Cadbury Oreoooo will also return for Halloween 2020 in the form of 82g bag of Oreo Mini Filled Eggs. Mondelēz International is also launching two new treatsize bags – Cadbury Family Treatsize and Freddo and Friends Treatsize, both including an assortment of Cadbury favourites.
* Maynards Bassetts Dead Chewy Product weight 162g RRP: £1
* Cadbury Oreooooo Product weight 82g RRP: £1
* Cadbury Goo Head Product weight 40g RRP: £0.55
* Cadbury Goo Head Five-Pack Product weight 200g RRP: £2.85
* Cadbury Goo Head Minis Product weight 89g RRP: £1.49
* Cadbury Treatsize Bag Product weight 222g RRP: £2.79
* Freddo and Friends Treatsize Bag Product weight 191g RRP: £2.79
* Cadbury Crunchie Treatsize BagProduct weight 210g RRP: £2.79
* Cadbury Fudge Treatsize Bag Product weight 202g RRP: £2.79
* Cadbury Dairy Milk Buttons Treatsize Bag Product weight 170g RRP £2.79