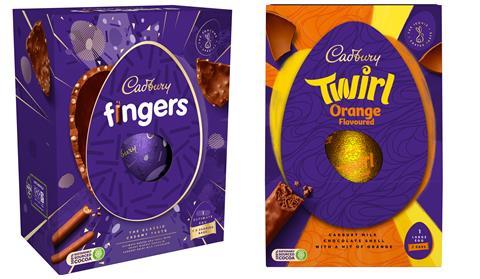 Mondelez has unveiled a host of new shell eggs from Cadbury under its Fingers, Twirl, Daim and Crème Egg brands.
New for 2022, Cadbury Twirl Orange Large Egg contains one large orange-flavoured egg and two Twirl Orange singles bars, the egg joins the best-selling Cadbury Twirl Large Egg.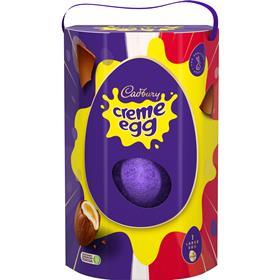 This year the best-selling Cadbury Mini Eggs Gesture Egg – will be joined in 2022 by a 275g Cadbury Creme Egg Gesture Egg (rrp £8) and a 212g Cadbury Fingers Gesture Egg (rrp £8). Each products contains one large shell egg and 3x Cadbury Creme Egg singles or 3x packs of Mini Fingers respectively.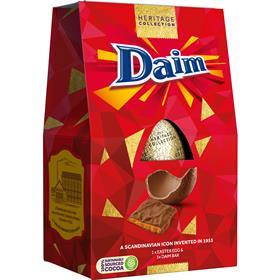 Cadbury will also be launching the Daim Heritage Egg (rrp £3.99), which contains one heritage shell egg and 1x 28g Daim bar.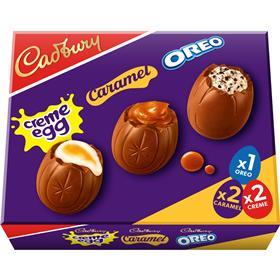 Also new this year from Cadbury is the Spring Share Box (rrp £5.99). Each box will contain a range of Cadbury goodies for sharing including Cadbury Mini Eggs, Cadbury Creme Eggs and Caramel Eggs as well as Cadbury Creme Egg Twisted singles.
To further fuel the gifting occasion this Easter, Cadbury will be bringing back its Show You Care Hide it campaign, reaching around 92% of UK adults and encouraging them to show their loved ones how much they care through a simple gesture of hiding an egg for them. The Cadbury Worldwide Hide will also return, enabling people across the UK to hide an egg virtually anywhere in the world for someone they love using Google Maps. The brand will be visible through in-store POS as well as a fully-integrated campaign across TV, outdoor, social media and YouTube.
Mondelez claims that the majority of Cadbury's packaging is now recyclable across all its Easter products, with no rigid plastic. As part of the company's 'Pack Light & Pack Right' strategy, the plastic tamper stickers from egg multipacks have been removed along with remaining plastic elements across the range such as the spoon in Egg 'n' Spoon packs. Shell egg packaging will carry the 'Be a Good Egg' prompt to encourage consumers to recycle the cardboard packaging after use.