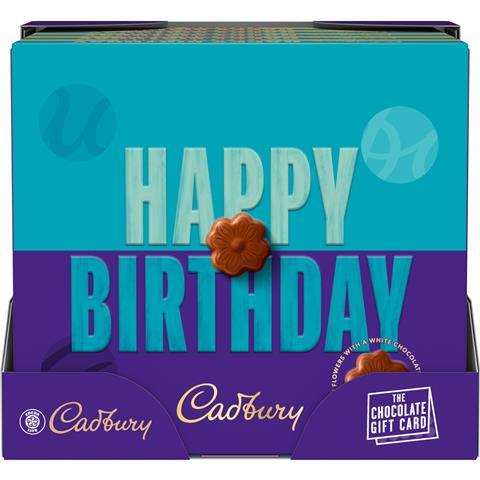 With new seasons come new shopper occasions, and Mondelēz International is catering for each one of them through new additions to its Cadbury Cards range. 'Happy Birthday', 'Thank You' and 'Just for You' messages are being added to the refreshed and redesigned Cadbury Cards sleeves to allow shoppers to pick the perfect occasion for its recipient. The cards have an rrp of £3 and come in a case size of 10.
First launched last year, Cadbury Cards feature a thoughtful gifting design on the outer pack and contain 20 delicious Cadbury chocolate pralines. There is also a space to write a special message for the recipient, bringing a personalised experience to the chocolate aisle.
Cadbury Cards have already generated over £780,000 in sales since their launch last year, proving popular among shoppers looking for a convenient yet thoughtful and customisable gift. The refreshed Cadbury Cards range will now be available in four different designs, and in two variants: Hazelnut Creme Hearts and White Chocolate Truffle Flowers. This gives the range relevance across a wide variety of shopper occasions, from Father's Day to Valentine's, or simply 'just because'! Mondelez claims that the products will allow them to drive incrementality in their stores and take advantage of the many seasonal and everyday gifting opportunities all year round.