The first ever flavoured Maltesers product – Mint Maltesers Buttons - will be launched market-wide on 9 March, Mars Wrigley UK has announced.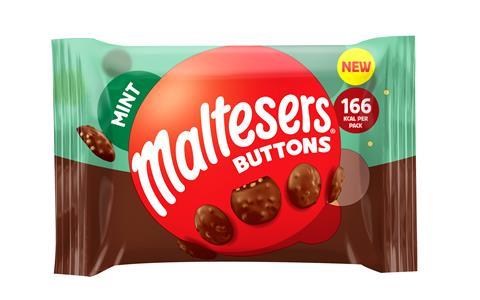 Maltesers Buttons became the number one NPD in the confectionery category following its launched in 2018 (Nielsen Scantrack), while mint-flavour products have grown 34% over the past 12 months (Nielsen Hometrack), the company said.
Mint Maltesers Buttons will be available in a range of formats:
Single: 32g (rrp £0.66)
Treat Bag: 68g (rrp £1.19)
Treat Bag Extra Free: 85g (rrp £1.19)
Pouch: 102g (rrp £2.09)
The launch will be backed by a £600,000 advertising campaign, beginning in March. With social media investment across Snapchat, Twitter, Instagram and Facebook, the brand aims to reach Millennials online as well as through out-of-home advertising.
Maltesers senior brand manager Laura Boothroyd said: "We're incredibly excited to be launching Mint Maltesers Buttons into the UK this year.
"We saw the great success of flavoured Maltesers driving huge consumer interest in the Australian market and coupled with the UK's existing love of Maltesers Buttons, we are therefore confident that the launch of this latest Maltesers innovation will once again win over consumers."