McCain has unveiled the next installment in its 'We Are Family' series of advertising, celebrating the differences that exist within families across the UK.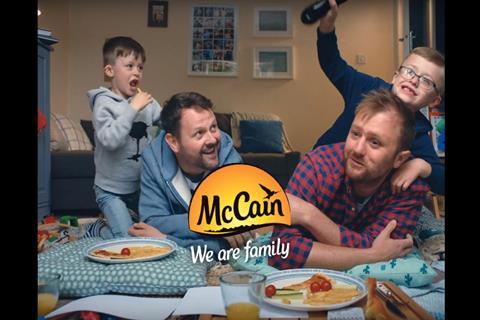 The £2.5m multi-channel campaign will roll out across TV, radio, video-on-demand, out-of-home, cinema, PR, print and online media and social channels for six weeks from 19 August.
Featuring the voice of actor and comedian Ricky Tomlinson, the 'Differences' activity features ten real-life families from around the UK who carry different beliefs on a wide range of subjects from race, religion and gender.
The campaign also focuses on two of McCain's most popular products - McCain Crispy French Fries and McCain Home Chips. The brand wants to position both skus as a key part of family mealtimes.
Mark Hodge, marketing director at McCain, commented: "Following on from the success of our last two campaigns, 'Differences' goes further in celebrating the modern family in all its different forms. The connection between each family really shines through in the advert and showcases that differences, when expressed around the dinner table, can bring a family even closer together.
As a family company centrally focused on people and values, and as a major advertiser in the UK, celebrating these differences and the positive impact that they have remains a key focus for us. We loved seeing the positive reactions to the previous 'We Are Family' instalments and are proud to share the next phase with the public so that we can continue to celebrate these differences together."