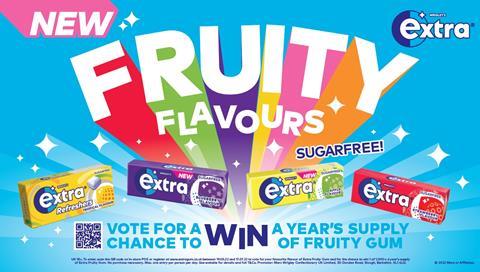 Mars Wrigley has launched a Flavour Vote campaign offering consumers the chance to cast their vote and potentially win a year's supply of their favourite Extra fruity flavour.
The Flavour Vote campaign, which runs until 17th July, will give consumers the opportunity to vote for their favourite Extra fruity flavour.
Mars Wrigley has also partnered with LADbible for the campaign to drive awareness, developing content across its Facebook, TikTok and Instagram platforms, to a combined audience of 59.8 million. Posts will feature influencers, including Cole Anderson and Love Island's Joanna Chimonides, each representing a flavour of Extra's fruity range. Influencers will partake in a series of social-first games to encourage consumers to vote for their favourite flavour.
To vote, consumers can visit the Extra gum website www.extragum.co.uk, or scan the QR code shown on point of sale for Extra fruity gum in store. Alternatively, they can cast their vote via SMS by texting 'VOTE' with the flavour of their choice to 60163.
Hannah Lee, senior brand manager, Extra, at Mars Wrigley said: "As fruit flavoured gum continues to grow in popularity, the Flavour Vote campaign is a fun way to engage with consumers to grow the category. This campaign also helps drive awareness of Extra fruity flavours, including the newest additions to the range, Apple and Blueberry, whilst driving footfall in-store as consumers seek out the different fruit.
"We are supporting our retailers with impactful in-store POS to encourage engagement and drive sales. This is an exciting year for gum and we are continuing to innovate in the segment to keep gum top of mind with consumers."