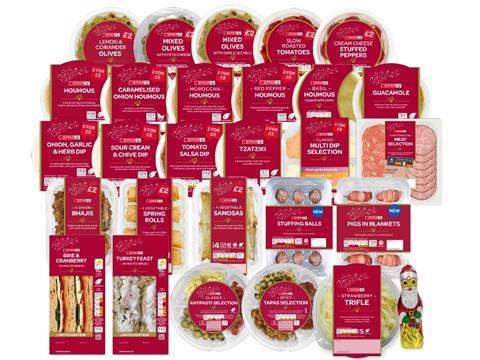 Spar is launching its new own-label Christmas range for 2021. Branded in a festive red livery, the own-label range features dips, snacks and desserts, aimed at family gatherings over the festive season .
The range also includes the return of the retailer's mince pies, including the all butter indulgent line, available in stores now.
Also returning is the Limited Edition Sandwich: Spar's Turkey Feast will be back on the shelves on the 15 November, and will be joined by the brand new Brie and Cranberry sandwich, which is suitable for vegetarians.
The Limited Edition programme supports Spar's year round partnership with Marie Curie with 10p from the sale of each sandwich going toward the charity.
Spar is also introducing its own label pigs in blankets and stuffing balls that will be available from 13 December to go alongside a main Christmas meal.
Spar UK brand manager Myles Mersh said: "We are anticipating a family festive season this year and as a result we are encouraging Spar stores to engage with customers as early as possible to ensure they are front of mind when it is time to purchase.
"Our 2021 Christmas range covers a number of new incremental SKUs and a wide range of customer missions over the festive period, including meal trimmings, antipasti, party food, food to go, dips, confectionery, desserts and more."
Spar also recently launched a frozen range, aimed at consumers looking for a value solution and aim to reduce food waste.
This range includes party food such as Spar Curly Fries, Spar Potato Wedges and Spar Corn on the Cob.
| PRODUCT | SIZE | RRP |
| --- | --- | --- |
| Spar Houmous Flashed 2 for £2 | 170g | 2 for £2 |
| Spar Moroccan Houmous Flashed 2 for £2 | 170g | 2 for £2 |
| Spar Onion & Garlic Dip Flashed 2 for £2 | 170g | 2 for £2 |
| Spar Sour Cream & Chive Dip Flashed 2 for £2 | 170g | 2 for £2 |
| Spar Tomato Salsa Dip Flashed 2 for £2 | 170g | 2 for £2 |
| Spar Red Pepper Houmous Flashed 2 for £2 | 170g | 2 for £2 |
| Spar Caramelised Onion Houmous Flashed 2 for £2 | 170g | 2 for £2 |
| Spar Tzatziki 2 for £2 | 200g | 2 for £2 |
| Spar Basil Topped Houmous | 170g | £1.40 |
| Spar Guacamole | 125g | £1.45 |
| Spar Classic Multi Dip Flashed 2 for £3 | 400g | 2 for £3 |
| Spar Vegetable Samosas 160g | 160g | £2 |
| Spar Onion Bhajis 4s 160g | 160g | £2 |
| Spar 4 Vegetable Spring Rolls 200g | 200g | £2 |
| Spar Continental Slice Meat Selection 120g | 120g | £2.85 |
| Spar Mixed Olives & Feta Cheese PM £2 150g | 150g | PM £2 |
| Spar Mixed Olives with Garlic & Chilli PM £2 150g | 150g | PM £2 |
| Spar Queen Lemon & Coriander Olives PM £2 150g | 150g | PM £2 |
| Spar Peppers Stuffed with Cream Cheese PM £2 120g | 120g | PM £2 |
| Spar Slow Roasted Tomatoes PM £2 120g | 120g | PM £2 |
| Spar Classic Antipasti Selection 170g | 170g | £3.00 |
| Spar Spicy Tapas Selection Pack 165g | 165g | £3.00 |
| Spar Strawberry Trifle 600g | 600g | £3.25 |
| Spar Turkey Festive Feast PM £3 | Single | PM £3 |
| Spar Limited Edition Deep Fill Brie & Cranberry Sandwich PM £3 | Single | PM £3 |
| Spar Pigs in Blankets 300g | Single | £3.00 |
| Spar Pork Stuffing Balls 360g | Single | £3.00 |
| Spar Milk Chocolate Gold Coins | 75g | £0.75 |
| Spar Chocolate Santa | 125g | £1.00 |