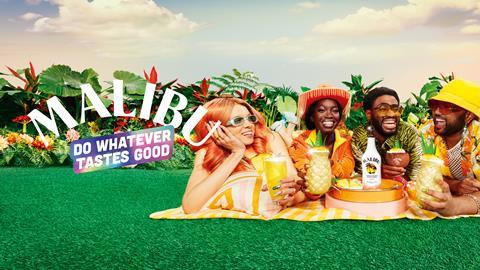 Malibu has unveiled new brand positioning, encouraging consumers to "Do Whatever Tastes Good".
Running throughout July, the above-the-line creative will be on social channels, digital OOH, and BVOD, and later this month, Malibu is also inviting consumers to enter a world of zero judgement in an immersive experience that turns the traditional courtroom into a tropical celebration.
To drive further awareness of the new brand positioning, 'Malibu's Courtside Confessions' will take over the outdoor terrace at Brixton Jamm on 22 and 23 July.
Marnie Corrigan, brand director at Pernod Ricard UK said: "Malibu is a place where summer is a mindset, residents serve all sunshine and no shade. It's about showing up confidently as your authentic self and being free to do what you love. Just like the most outlandish playlist, crazy food pairing or cushiest velour sweatpants, Malibu is deliciously uncomplicated. This campaign invites consumers to 'Do Whatever Tastes Good', to embrace their guilty pleasures and enjoy drinking their favourite Malibu cocktail or drink, and our new campaign features a wide range of moments and new ways in which to enjoy Malibu, that's unapologetically you."