KP Snacks has announced the launch of a nationwide campaign to reward convenience retailers for their resilience shown through the coronavirus pandemic as well as help them retain shoppers and bigger baskets.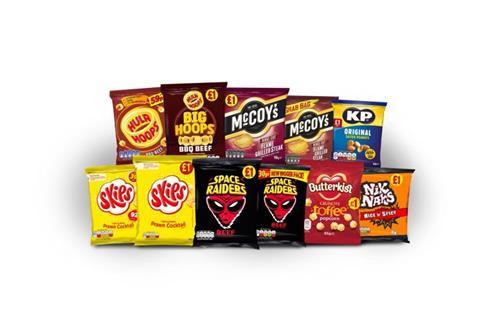 The 'Local Legends' campaign sees KP snacks offer a retailer incentive programme to recognise partners as 'Local Legends' themselves, by providing 40 separate prizes worth £1,000 each.
Winners will each receive £250 worth of KP Snacks product, £250 Love2Shop vouchers for staff, and a £500 donation on their behalf to a registered charity of their choice.
To enter, retailers simply need to purchase KP Snacks' 'Super Seven' singles range of McCoy's, Hula Hoops, Butterkist, KP Nuts, Skips, Space Raiders and Nik Naks via select wholesalers and distributors to be entered into a free prize draw. The prize draw will run throughout August to October with specific dates for participating customers.
As part of the campaign, KP Snacks is raising awareness of industry charity GroceryAid and the support available to wholesale and convenience retailers.
Commenting on the partnership, GroceryAid president Charles Wilson said: "We at GroceryAid are delighted to partner with KP Snacks to support our key workers who in turn are so wonderfully supporting their communities."
Trading director at KP Snacks Matt Collins said: "At KP Snacks we stand firmly together with our trade partners in what has been an extremely challenging time. We want to do our bit to support this vital community both commercially and emotionally. Our job now is to help our customers to continue to thrive and prosper in the CSN category through these ever-changing times.
"In recent months there has been a marked increase in savoury snacking occasions, with CSN being the fastest growing snack and showing up in 70% more convenience baskets during lockdown. Using the strength of our brand portfolio, and our 'Local Legends' campaign, we hope to help our retail partners adjust to new norms, reward them for their resilience and help them retain the new shoppers that they have won and bigger baskets that have been gained."