Rustlers has launched a new campaign to highlight and reward the hard work done by convenience retailers.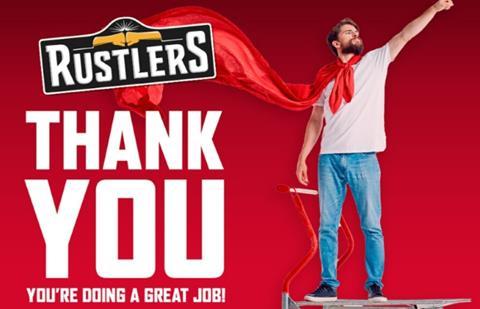 The brand is asking the industry to share stories on Twitter using #RustlersRetailHero of how colleagues from all parts of the industry go above and beyond, not just in the recent past but on an ongoing basis to deliver for their customers. For every story Rustlers receive using the campaign hashtag, they will donate £10 to industry charity GroceryAid.
Kepak convenience controller Ross Davison said: "As a key brand within chilled in the Convenience Channel, we know first-hand how challenging it is for the sector to consistently meet shoppers' ever evolving needs through stocking the right ranges and delivering great service. Add the issues we've all had to face recently, and it's been a particularly tough time. We want to shine a light on the hard-work, passion, and dedication that the sector put in 7 days a week, 365 days of the year.
"The #RustlersRetailHero campaign will highlight some great examples of the work being done behind the scenes, across the industry by people working extraordinarily hard, going above and beyond to help serve their customers and their communities."
GroceryAid will receive the donations made through the #RustlersRetailHero stories to help those in need across the industry receive vital support.
GroceryAid CEO Steve Barnes added: "It's great to receive this support from Rustlers. Backing like this means we can enhance our assistance for colleagues in need. A great example of this is our GroceryAid Covid-19 Fund designed to help colleagues who need support now and throughout the full impact of the pandemic."