Cornitos, the natural nacho chips brand designed specifically for the convenience retail sector is now available in Scotland and Wales.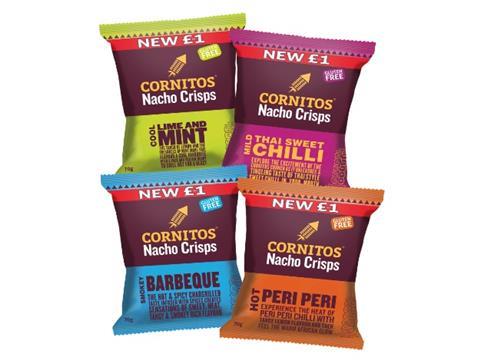 The Cornitos 70g sharing pack, pricemarked at £1, was initially launched through the Dhamecha Cash & Carry group and national delivered wholesaler, Suma Wholefoods. It is available in four flavours – Lime and Mint, Barbeque, Thai Sweet Chilli, and Peri Peri. Each is gluten free, vegan, non-GMO, cholesterol free, with no artificial colours, flavours, or preservatives.
Cornitos is listed in One O One, the largest independent licensed convenience store group in Scotland, with all 45 stores now stocking the brand. It will also be available this month through wholesaler United Wholesale Grocers' depots in Glasgow and Gateshead, and Cardiff's Global Foods.
Fraser Heenan, chief executive and co-founder of Glasgow-based Blaze XK, the company that brought Cornitos to the UK from India, said: "Cornitos has been extremely well received by trade partners and customers alike with over 100,000 packs already in convenience channels in the two months since we launched.
"Consumer and retailer trials in Scotland during May delivered praise for the brand's premium quality and taste, while stores reported high levels of interest in the brand and repeat purchase rates."
"We've very much tailored the flavours to the local market and will launch a further exciting flavour before the end of the year."
The brand is being marketed via social media channels including Instagram and consumer sampling.
The growth in demand for world flavours is just one of the key insights to be found in our recent '9 things you need to know about the crisps and snacks category' report.