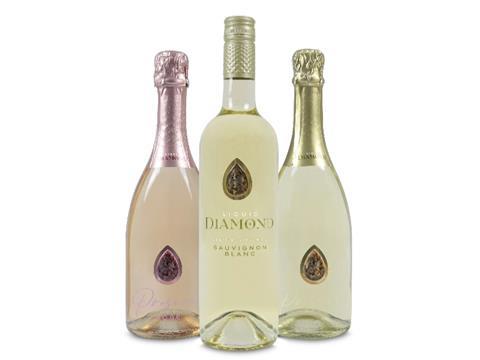 Liquid Diamond has added a Sauvignon Blanc to its range.
The RRP is £10 for a 75cl bottle, or for gifting, the single bottle gift set, can be picked up for £18.
The design was inspired by rose quartz healing crystals, which is a nod to the brand's values of self-care and wellbeing and the proportion of profits it donates to fund Mental Health First Aider Courses.
Billed as the first brand to feature emoji tasting notes, Liquid Diamond is "dedicated to eliminating pretensions around wine and removing the barriers that may prevent the majority of consumers from purchasing and enjoying premium quality wines".
Co-founder of Liquid Diamond and Beyond Wines Alex Green said: "We are excited to extend our Liquid Diamond family of wines with this Sauvignon Blanc, our first non-sparkling wine. Since our launch earlier this year, we have seen Liquid Diamond go from strength to strength, with a growing customer-base who recognise and trust our brand for providing quality wines picked for people like them. Whether they are first-time or regular white wine drinkers, these shoppers will have the confidence to try our Sauvignon Blanc, knowing it will meet their high expectations.
"With our emoji labelling and our social media activity, we're also making wine shopping more fun for consumers, which ultimately benefits the industry by bringing more shoppers into the wine aisles."