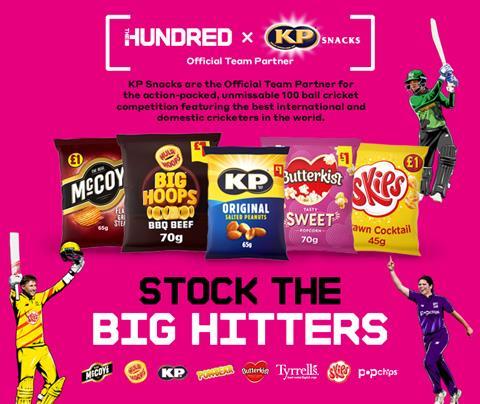 KP Snacks has announced details of its partnership with The Hundred, a new 100 ball cricket competition.
With a range of initiatives and activations in place for this summer, KP Snacks is looking to champion healthier lifestyles and inspire people to get more active through cricket, while driving sales of its core range.
As the official team partner of The Hundred, KP Snacks brands: popchips, Butterkist, POM-BEAR, Tyrrells, KP Nuts, Hula Hoops, McCoy's, and Skips, will all feature on team shirts. The brands will also feature in broadcast idents and in ad spots during broadcasting breaks, as well as through in-ground promotion on the big screens.
In the run-up to the competition, KP Snacks encourages retailers to purchase cases of its promoted products for a chance to win match tickets and merchandise to enjoy themselves and with their families.
The manufacturer is also offering free and easy ways for consumers to get engaged with cricket through their recently launched 'Everyone In' hub at everyonein.co.uk. 'Everyone In' is an easy-to-use digital platform offering simple, fun ways for people to get active this summer through cricket, alongside lots of fun video content with some of the male and female stars of The Hundred.
Marketing director Kevin McNair said: "At KP Snacks, we care about doing the right thing – by our consumers, our communities, our people and the environment – and we believe that snacks can be enjoyed as part of a balanced and healthy lifestyle, including regular exercise. Our vision is to support healthier lifestyles and inspire families across the UK to get more active.
"We have partnered with The Hundred because we believe cricket is the perfect route to encourage families to get moving and enjoy more moments together. Over the next five years, our partnership with The Hundred aims to help thousands of families up and down the country to get more active together."