To celebrate National Doughnut Week (11 – 18 May), Fodservice specialist Kara is relaunching its doughnut range with a revamped recipe.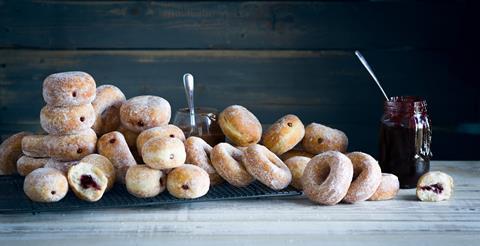 The collection, which now includes a mini chocolate mix, will be available from 24 May. The range also consists of a sugared ring doughnut, a sugared jam doughnut, a sugared chocolate doughnut, a mini jam doughnut, a jumbo jam doughnut.
All of the lines have been updated by Kara to improve softness and flavour. In addition, each case of the new mini chocolate doughnuts will include paper bags allowing retailers to display the products within their grab-and-go fixture.
Jane Olney, commercial director at Kara (part of the Finsbury Food Group), said: "We're always looking for ways in which we can enhance our ranges and with National Doughnut Week coming up, it was a perfect opportunity to relaunch our much loved doughnut range. We feel that with the additional chocolate flavour, the collection is now complete."
Kara's improved range is available to convenience retailers via foodservice distributors, including Country Choice and Spar (rrp at retailer's discretion). For more information, visit https://karafs.co.uk/.