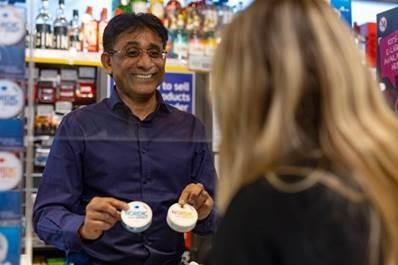 JTI has announced a nationwide search to discover the 'perfect' Nordic Spirit stores amongst its independent retail trade partners.
Running until 2 December 2022, stores that perform best against a new points system will be in with the chance of winning high-value prizes including an expenses-paid trip to the Nordic region and a year's supply of Nordic Spirit.
Participating retailers must follow the advice in the Nordic Spirit Perfect Store guide which includes five simple pillars that retailers should follow to generate product awareness in-store, entice new customers, and boost sales. Each pillar is worth a certain number of points which their local JTI business adviser will score them on each month during their scheduled store visit.
At the end of the year, the competition will close and the top ten stores with the highest scores from each JTI region will win a prize bundle worth up to £2,000 per store*, including:
1 year supply of Nordic Spirit
Fitbit Versa 3 Smartwatch
£125 restaurant voucher
Limited Edition Nordic Spirit merchandise
The winning regional stores will then qualify to enter the national Nordic Spirit Perfect Store competition. With the help of their JTI business advisers, retailers will have the opportunity to showcase their stores; one national champion per JTI region will be crowned as the winner and will receive the below prize bundle worth up to £20,000 per store:
Expenses paid trip to the Nordic region, including some fantastic excursions
£2,000 wholesaler credit
Apple iPad Air
Tickets to some great events
A Nordic Spirit Perfect Store Makeover
National trade press coverage profiling winning retailers and their store
Trophy and a certificate
Bruce Terry, portfolio brand manager at JTI UK, said: "The Perfect Store competition couldn't come at a better time as we're seeing the nicotine pouch category grow at a phenomenal rate, now worth £2.6 million a month. We're always looking at ways we can support and reward our highly valued trade partners; through this project, we are not only supporting retailers by providing them with a new step-by-step guide on how to boost their sales but also rewarding those that apply it to their store in the best possible way."