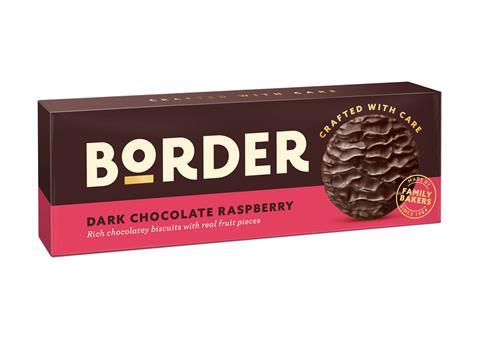 Border Biscuits has developed new market positioning and brand identity, new packaging formats and three new products, with a view to becoming the UK's number one 'accessible premium' biscuit and unlocking a category opportunity worth £190m to retailers (Kantar).
As part of its rebrand, the business is adding three new products to its portfolio – a Dark Chocolate Orange biscuit (RRP: £1.85) and bar (RRP: £1.75), alongside a Dark Chocolate Raspberry biscuit (RRP: £1.85).
The new Border Biscuits NPD will hit shelves from March and the new packaging will roll out across the wider portfolio in April. The brand refresh will be supported with a £5m brand investment and significant capital investment.
Managing director at Border Biscuits Paul Parkins said: "We've identified a real opportunity for Border Biscuits to lead the accessible premium category. We understand what consumers want, and our trusted brand and track record in innovation mean we're in the perfect position to deliver it. We're already outperforming the market in a growing category, and the brand repositioning will help retailers benefit from increased sales in the accessible premium category.
"We're passionate biscuiteers who pride ourselves on being an honest brand that uses quality ingredients, with flavours that come from authentic family recipes which have been developed over the years. We're already the number one premium biscuit brand out-of-home in the UK, and now we're using our success in Scotland as a springboard for future growth in a category with huge potential UK-wide. Our aim is to be the number one accessible premium biscuit brand across the market."