Food-to-go brand Honest Crust has launched two limited edition Christmas sandwiches, created by FareShare chefs as part of an ongoing partnership which has seen the charity donate 200,000 meals to vulnerable people across the UK this year.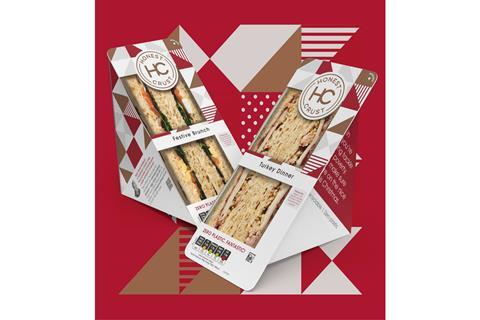 The festive sandwiches are available to Londis and Budgens retailers, as well as university student unions, to support and raise awareness of FareShare nationwide.
Charity chefs Rosie Radford from Cheltenham Open Door and Jessie and Jill, charity owners of the Pulp Friction smoothie bar project, work for their charities all year round using ingredients delivered by FareShare, which redistributes surplus food to charities across the UK to support vulnerable people.
Honest Crust, which is committed to tackling food waste and food poverty, has worked with Rosie, Jessie and Jill to come up with two Christmas inspired sandwich flavours: Festive Brunch (made with smoked salmon, spinach, egg mayo and dill); and Turkey Dinner (made with turkey, cranberry sauce and stuffing).
Alastair Johns, head of brand and category for Honest Crust, said: "We are thrilled to have been able to work so closely with the people who work tirelessly to turn unloved, surplus food into delicious meals for thousands of people.
"Honest Crust is a brand with its values firmly on its sleeve and FareShare is one of our top priorities in everything we do. They do so much vital work and we wanted to highlight specific charities they help, which is why we asked Rosie, Jessie and Jill if they'd like to come along to our bakery and devise these festive sandwiches for us."
Alyson Walsh, commercial director at FareShare, added: "These recipes developed by Jill, Jessie and Rosie highlight the fantastic work FareShare community chefs are doing every day in turning surplus food into delicious nutritious meals, that they offer alongside life changing support services.
"It's great to see them recognised in this way by Honest Crust, who over the course of the year have enabled FareShare to provide 200, 000 meals to people in need."