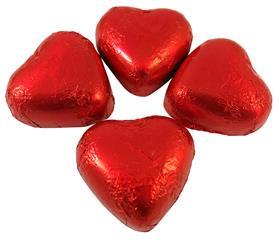 Confectionery distributor, importer and wholesaler Hancocks has announced its Valentine's offer, which features a selection of Valentine's themed pick and mix, a range of chocolate boxes and Bonds Pun Boxes.
Kingsway's Valentine's pick and mix range includes: Pink Hearts, which are strawberry flavoured sweets, covered in a candy topping; Fruit Hearts, with apple blueberry, lemon and strawberry flavour candy; Milk Chocolate Red and Silver hearts; and Vanilla-flavoured Mallow Hearts.
A new Love you More than Pizza Pun Box from Bonds joins the existing line up of Hearts and Kisses, You Crack Me Up, You're One in a Melon, Turtley Love You and You're Shrimply the Best.
The wholesaler also has heart-shaped boxed chocolates from Guylian, Lindt and Ferrero Rocher, as well as a Giant Love Hearts box from Swizzels.
Marketing communications manager Chris Smith said: "We are thrilled to be offering such a great selection of products this Valentine's Day, it's great giving retailers the opportunity to provide their customers with a range of Valentine's themed products.
"Chocolates are a popular gifting item for this holiday so we wanted to provide retailers with exciting options like the Guylian boxes and the Lindt Lindor boxes.
"We also have smaller products that would look great as part of a larger hamper or filling up cute sweet jars. The Kingsway pick and mix range is perfect for this, the selection of love hearts would look fantastic arranged in a small sweet jar."