Relief sweet brand Halls is adding two sugar-free sweets, made with vitamin C, to its range of confectionery products.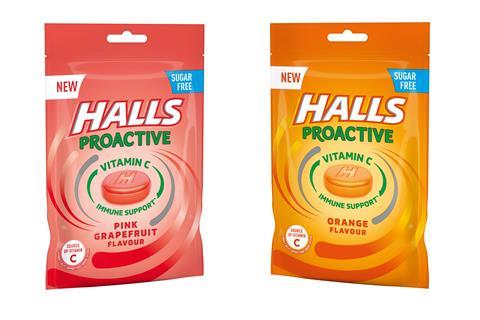 Available from this month, the Halls Proactive skus are designed to support the immune system before the onset of a cough and cold. Sold in two citrus flavours: orange and pink grapefruit, the sweets come in 65g resealable bags (rrp £1.50 / case siz of eight).
Amy Lucas, brand manager for Halls at Mondelēz International, said: "The Halls and Halls Soothers range are iconic brands in the relief category – so much so that when we tested new Halls Proactive, the results have shown 82% of UK consumers would consider purchasing the exciting new range extension (Source: Zappistore Concept Test - January 2019, Halls Proactive)."
"As it starts to get colder outside and winter is getting closer, we want to provide our consumers with a way to stay ahead of the game when it comes to their health. Halls Proactive with Vitamin C is a first mover for the category and aims to drive incremental sales for retailers, through extending into a new need-state and targeting a broader consumption occasion." Lucas added.
Alongside the launch of Halls Proactive, Halls is launching a new ATL marketing campaign this November which will focus on social media and in-store activation.