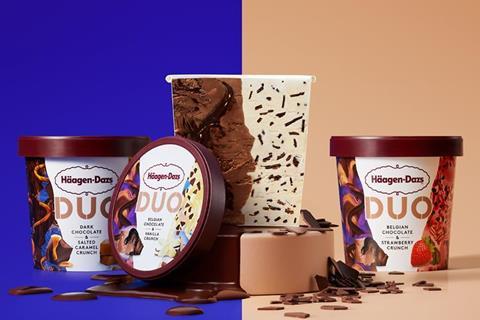 Häagen-Dazs has launched Duo, a new 2-in-1 ice-cream range.
The Duo range contains three flavours: Belgian Chocolate & Vanilla Crunch, Dark Chocolate & Salted Caramel Crunch and Belgian Chocolate & Strawberry. Available from the end of January in a 420ml tub with a rrp of £4.99.
The new launch will be supported by a £3m high impact ATL media campaign and an extensive shopper marketing plan to introduce the product in convenience, wholesale, and grocery.
Marketing manager at Häagen-Dazs UK Kat Jones said: "This new format sees two worlds collide and we're confidently predicting consumers will absolutely love it! Product quality and distinctiveness are most important to buyers seeking a luxury experience and our DUO range responds to that demand and provides an ideal offering.
"This launch is one of our most sophisticated, it really taps into the opportunity to fulfil shoppers' increased desire for chocolate indulgence, of which 77% of consumers assuage with ice cream."