Sports nutrition brand Grenade is moving into the energy drinks category with the launch of Grenade Energy.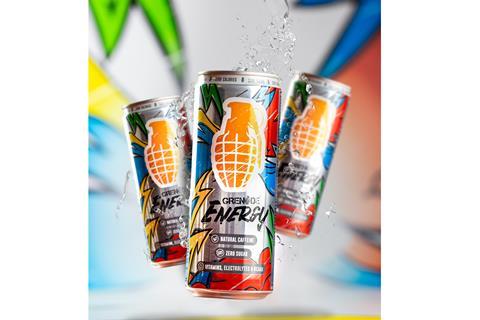 Aimed at shoppers looking to reduce their sugar intake, the drink is made using all-natural caffeine and zero sugar, with added electrolytes for hydration (including magnesium), plus B vitamins and BCAAs to aid recovery.
Available to Budgens and Londis stores from 2 December, as well as via wholesalers Booker, Muscle Finesse and Tropicana, Grenade Energy comes in 330ml cans (rrp £1.99 each) and contains no artificial preservatives or colours.
Featuring a carbonated fruity flavour, the drink is being targeted at gym fanatics, on-the-go parents and busy workers looking for a quick energy fix (see video below).
Grenade ceo and co-founder Alan Barratt commented: "We're pumped to take the energy world by storm with our new product. There is no doubt that the sports and energy drinks sector is a large and dominating market – but in true Grenade® style, we're offering something different to market, whilst immersing our brand into the category.
"Our brand-new flavour-packed Energy drink will give consumers the ultimate energy fix that comes at no cost to their healthy and active lifestyle. Watch this space."