Sports and nutrition brand Grenade has expanded its Go Nuts range with a new plant based flavour: Go Nuts Peri Peri.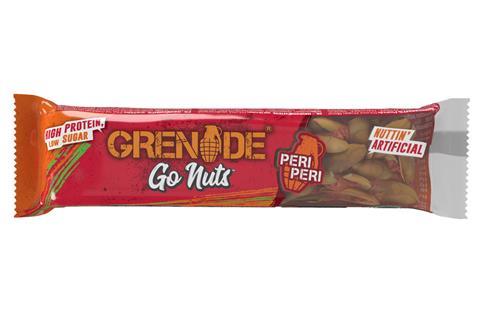 The spicy and savoury vegan snack is packed with 11g of plant-based protein and is also low in sugar with less than 2g per 40g bar.
Alan Barrett, ceo and founder of Grenade, commented: "At Grenade we cater for all consumers from all walks of life. The Go Nuts range is 100% vegan, making it a tasty savoury protein-packed treat for consumers who follow a plant-based diet.
The new and exciting flavour, Peri Peri, is a delicious new addition to the range sure to add a fiery kick to your day, leaving you completely satisfied. Who said healthy snacking has to be boring?"
Available to c-stores and independents via wholesalers including Blakemore, Tropicana, and Muscle Finesse, the Peri Peri flavoured nut bar comes in a single format with an rrp of £1.79.