Sports nutrition brand Grenade is marking the arrival of summer with the launch of a new Carb Killa protein shake flavour: strawberries & cream.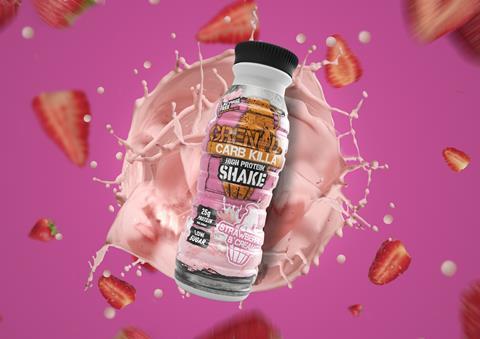 Best kept in the chiller, the new addition delivers 25g of protein and fewer than 200 calories per 330ml serving with limited levels of processed refined sugars.
Grenade ceo and founder, Alan Barrett, said: "We like to shake up the market and this new addition to our Carb Killa protein shake range is different from our other flavours. It's the perfect on-the-go treat or post-workout snack for busy consumers who want a high protein drink without the carbs or calories.
"We strive to give consumers great tasting, high quality, innovative products and as a brand, we've always been known for pushing the boundaries and leading the way, so why change now."
Grenade's Carb Killa strawberries & cream shake will be made available to independents from 6 June via the wholesale channel. It will come in the following formats: 330ml bottles (rrp £2.50) / 8 x 330ml multi-packs (rrp £19.99) or 500ml bottles (rrp £3.50) / 6 x 500ml multi-packs (rrp £21.00 per six-pack).