Fun Time is relaunching its entire range of flavoured milks to make the most of growth in the 'drink now' milk category.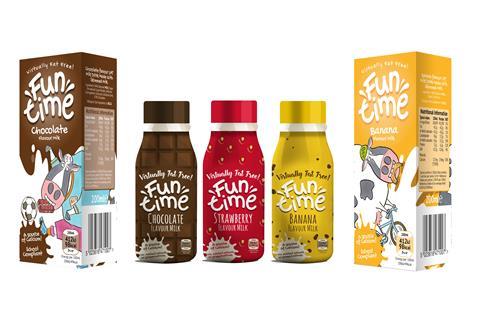 Available now, the brand's 500ml bottles (rrp 69p) have been redesigned with a modern look to appeal to young adults looking for an alternative to carbonated soft drinks.
The design provides better stand-out on shelf and features a contemporary Fun Time logo. Each variant also features a background design that reinforces the flavour profile and taste of each product.
Justin Thomas, FunTime brand manager, said: "The Fun Time brand is currently growing at a phenomenal 26% year-on-year (Nielsen data to April 2019), with sales of the brand now worth £3.1m. However, with the 'drink now' sector showing by far the most growth within the Milkshake category, we felt there was more FunTime could do to target this sector."
The Fun Time range carries claims including 'virtually fat free', 'source of calcium' and 'no added flavours or preservatives', and contains around 118 calories per 250ml serving.
In addition, the brand has also relaunched its 200ml cartons (rrp 39p). Targeted at children, the products now feature the new Fun Time logo as well as on-pack imagery which creates a link to health. The range is also School Compliant.
Thomas added: "The redesign of our 500ml Fun Time bottles will help the brand appeal to young adults, with its more modern look and feel. The pack design, in combination with our new Fun Time logo, will help the bottles command better stand-out on shelf as well as being easier to read.
"Our 200ml cartons which are aimed at children have also been given a new look to remind parents of the health benefits of flavoured milk, while appealing to children with fun illustrations of cows enjoying a range of sporting activities."