Fulfil Nutrition is embarking on its next phase of UK investment with the launch of a new protein bar and multi-million-pound above-the-line consumer advertising.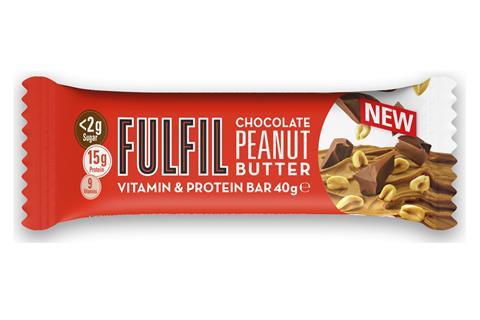 Available to retailers now, the new chocolate peanut butter bar comes in two sizes: 40g and 55g (rrp £1.99 and rrp £2.49 respectively). Fulfil's existing chocolate peanut & caramel sku will also roll-out in the smaller 40g format from this month.
This May also marks the launch of Fulfil's new brand campaign 'Life's Wonderfuel'. Targeted at 18-34-year-old commuters across rail, roadside and high street locations, the activity will be supported by a digital and social media campaign spanning two months.
Dave Pogson, UK managing director for Fulfil Nutrition, said: "Fulfil uniquely serves the needs of a wide range of consumers with the 55g bar for the health-committed who want a bigger eat and 20g of protein, whilst the 40g bar provides a guilt-free healthy alternative to chocolate confectionery, with both formats offering the same great tasting, low sugar, high vitamin promise.
"Our new above-the-line campaign is a significant step in our UK strategy to bring the bar to a new audience of 'Fulfilers' who have a thirst for life. Our new creative campaign celebrates the shared values that exist between our audience and the brand. Packed with protein and vitamins and low in sugar, the high-impact integrated campaign introduces the brand belief that life is worth living to the full."
Fulfil products sold in the UK are marketed and distributed by Red Star Brands.