Fulfil, the high protein, low sugar impulse snack brand, is preparing to launch its most chocolatey product yet with the rollout of a new chocolate brownie bar this September.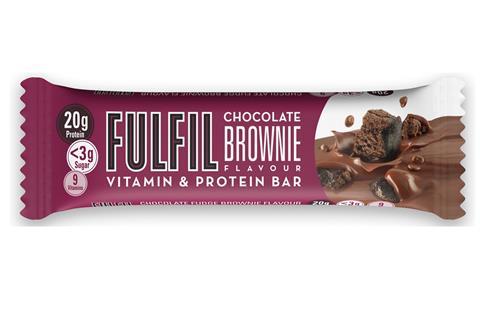 Available to c-stores across the UK in a 40g and 55g size (rrp £1.99 and rrp £2.49 respectively), the NPD follows the introduction of a chocolate peanut butter flavour in May this year.
Commenting on Fulfil's latest variant, Dave Pogson, UK managing director of Fulfil Nutrition, said: "We want to get as close to a confectionery bar as possible in terms of taste, texture and experience – we want to give that well rounded confectionery taste while offering protein and low sugar. This bar offers consumers the perfect indulgent flavour they expect from an impulse snack whilst also being healthier.
"Chocolate brownie has a rich, fudgy centre enrobed with creamy milk chocolate and topped with chocolate chips - a flavour which has been requested by our Fulfil fans and we are proud to now deliver it to them."
The 40g version of the chocolate brownie Fulfil contains 15g of protein and less than 2g of sugar while the 55g bar features 20g of protein and less than 3g of sugar. Both bars are made with nine vitamins.