Fox's is expanding its biscuits range with the launch of a 12-pack fun size version of its Rocky bars.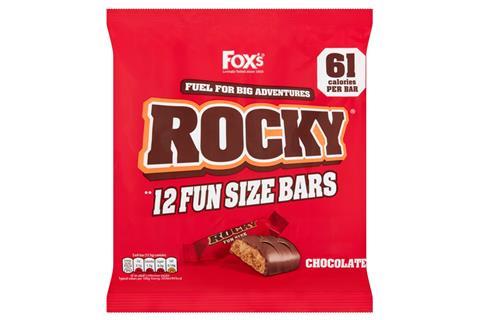 The on-the-go format is designed to meet demand from shoppers for convenient biscuit bar products and each one contains 61 calories.
The bars feature a Rocky chocolate coating and are being marked as a snack for kids to enjoy after school or as a lunchbox treat. The brand's 'Fuel For Big Adventures' slogan will also be displayed on pack.
Depa Patel, brand manager for Fox's Biscuits, commented: "The new Fox's Rocky Fun Size bar is sure to become an instant household essential for both parents and kids to enjoy. Fox's Biscuits are stepping up innovation within the category and at only 61 calories per bar, the fun size bar far exceeds the government's under 100 calories initiative, coming in with considerably fewer calories than competitors on the market."
Fox's Rocky Fun Size chocolate bars are available to convenience stores now with an rrp of £1.25 (12 x 12.5g).