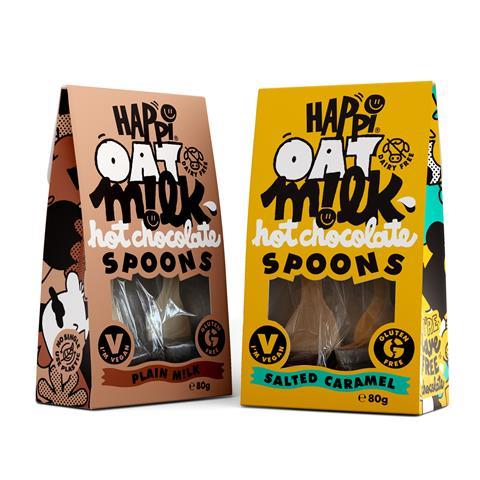 Flexitarians looking for an indulgent hot chocolate may well be drawn to Hot Chocolate Spoons from Oat M!lk chocolate brand Happi.
The spoons are available in Plain M!lk and Salted Caramel flavours and can be stirred into any warmed coconut, oat, soya or other milk alternatives, to create a creamy, chocolatey winter drink. An 80g pack contains two chocolate spoons and has an rrp of £5.
"We know how hard it is for those following a plant-based diet to find delicious and indulgent hot chocolate options and some people don't always like the same milk alternatives," explains Gavin Cox, founder of Happi. "We've developed these hot chocolate spoons to put the choice back into customers' hands as they decide what type of plant-based milk they use for their hot chocolate."
Happi's Hot Chocolate Spoons are produced using oat m!lk and sustainably-sourced 47% Cacao, which is made with Single Origin Colombian Cacao from Luker Chocolate. They contain no added soya and are gluten free.