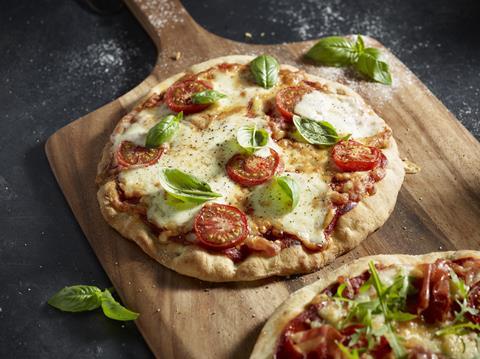 Country Choice has unveiled its new Flatstone Pizza Co. branded concept for retailers.
Aimed at enabling retailers to join the UK's growing pizza market, the premium quality pizza concept is designed to be simple for any retailer to introduce and has everything that they require to serve delicious made-to-order pizzas.
The brand has worked with a craft baker to develop an Italian inspired hand-stretched pizza base which means that 50% of the dough is slow-fermented for 24 hours to give the base a unique flavour, open texture, and rustic, crafted appearance. Each base is brushed with extra virgin olive oil and dusted with durum wheat semolina before being part-baked in a stone oven to create a thin crisp crust and air pockets.
Every Flatstone Pizza Co. pizza starts with this base, ready to be covered in a delicious signature sauce - made with ripe, outdoor grown tomatoes from Portugal, oregano, peppers, basil, and garlic. The sauce is supplied in 1.5kg pouches which minimise wastage and make it easy to pipe the sauce directly onto the base before spreading, whilst the nine different frozen, chilled, and ambient toppings come in small convenient packs so that the retailer doesn't waste food or storage space. Both the pizza base and the sauce are vegan approved, as are two of the lovely pre-grated cheeses - simply sprinkle on and let them melt in the oven.
Flatstone Pizza co. comes complete with step-by-step recipe cards that enable the retailer to create any one of eight different options – Margherita, Pepperoni, BBQ Chicken, Meat Feast, Hawaiian ham, Ham & Mushroom, Chicken & Pepperoni, and the Plant Lovers Pizza – and get the same great tasting result every time. All recipes come with full RDI and allergy information for the retailer's menu.
Baking the pizzas can be done using any one of three equipment options available from Flatstone Pizza Co: a convection oven (this could be the retailer's existing bake-off oven); a tabletop pizza deck that includes a fire-brick base to give a great stone-baked result; or a Merrychef oven that speeds up the cooking time without compromising on quality. Free on-site training comes as standard and this is supported by on-line step-by-step guides, along with 'what to do' cards that the retailer can refer to as and when required.
Flatstone Pizza Co. also has everything the retailer needs to prepare their pizzas including chopping boards, knives, squeezy sauce bottles, spoons, portioners, pizza cutters, pizza peel and temperature probes. And, when it comes to serving the pizzas, they can choose from 9" and 11" wooden serving boards for table service, recycled Kraft pizza boxes and fully branded labels for take-away, and a handy take-away carry bag that will ensure home deliveries arrive piping hot.
There is also a range of marketing materials available which includes posters, social media graphics, 'A' boards, drinks coasters, table talkers, banners, flyers, editable menus and social media videos.