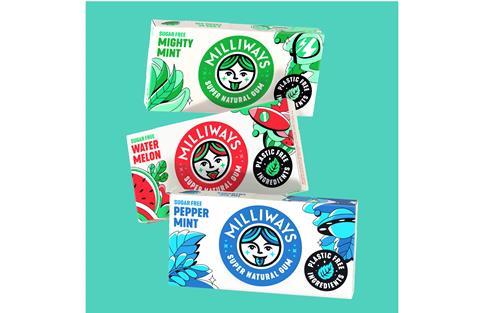 'Super natural' plant-based chewing gum brand Milliways is putting its plastic-free message at the heart of its new packaging design.
"The main sticking point for plant-based chewing gum, is that the majority of people don't realise that they're chewing bits of single-use plastic when they opt for conventional big-brand gum," claims the brand. "It was imperative that the new packaging would not only visually disrupt the category and set itself apart on the shelves, but also help to educate customers about plastic-free ingredients, not just plastic-free packaging. Milliways lives up to its slogan 'The Future of Gum is Here', setting out to make plastic-free chewing gum the norm by using sustainable, plant-based and biodegradable ingredients."
The rebrand strikes a whimsical balance between outer-space and Planet Earth's elements, from rocket ships to watermelons and mint leaves. The vibrant colours and innovative look and feel of Milliways aims to appeal to a wide audience whilst catching the attention of young, forward-thinking and sustainability-minded consumers.
Milliways CEO and founder, Tom Raviv says: "It was important for us to build on the existing brand identity we've established whilst pushing the brand and designs to the next level to make Milliways recognisable to everyone, everywhere. "We're always thinking about the future and how our products can shape it, so we wanted to incorporate aspirational 'futuristic' hues into the designs, whilst still paying homage to the natural and sustainable ingredients we use in our chewing gum. It was also essential that we highlighted our plastic-free ingredients to differentiate Milliways from big gum brands that use petroleum-derived plastics in their recipe.
"Ultimately, we're a fun, creative and personable brand at heart and we want this to be reflected across every touch point a person has with Milliways, from our packs to our marketing. We want everyone to feel a part of the Milliways Universe."