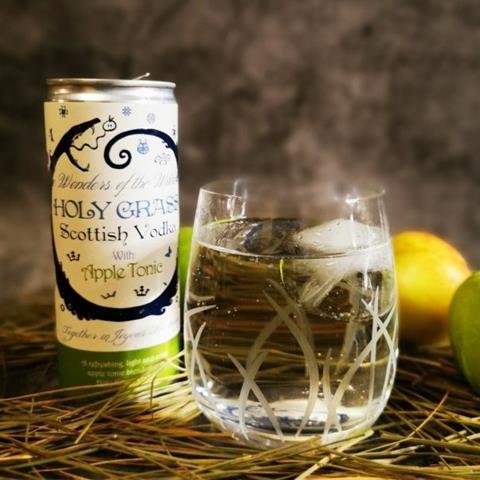 Family owned gin and vodka company, Dunnet Bay Distillers, has launched a canned RTD cocktail – 'wonders of the wilderness' holy grass Scottish vodka with apple tonic.
Holy grass is the local botanical used in the vodka, which has vanilla notes that are combined with the refreshing apple.
The packaging and labelling use fruit waste, meaning the can is more sustainable.
Environment manager at Dunnet Bay, Sarah Lyons, explains: "Aluminium is of course one of the most sustainable packaging materials, being a high grade, lightweight metal that is infinitely recyclable. We also wanted the label to be as sustainable as possible and chose paper over a plastic sleeve as direct printing was not available to us. This product therefore accords with our company's environmental sustainability ethos."
Claire Murray is co-founder of the company, she said: "Ours was the first company to launch spirits in fully recyclable pouches. We are known for innovative spirits and for our sustainable ethos. We pay close attention to every aspect of the footprint of the business including energy from solar, water management, packaging, and recycling. We see this RTD in a can as a logical extension to our range and it will be perfect to meet the current upswing in consumer desire for ready-made yet sophisticated cocktails and, for the spring and summer, for outdoor events."
Each 250ml can is 5.5% ABV RRP £2.50.