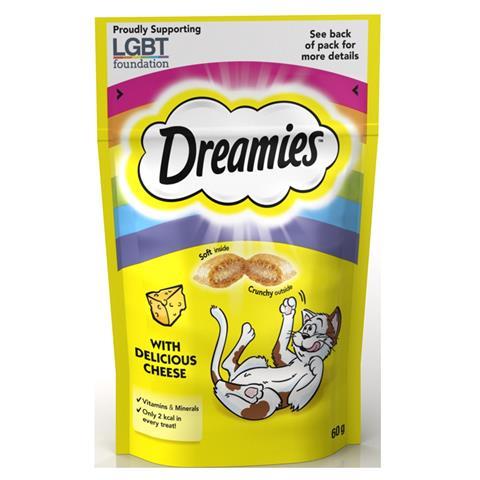 Dreamies is bringing back its partnership with LGBT Foundation for a second year, featuring the charity's helpline number on seven million packs during Pride month, as well as the LGBT Foundation logo and iconic Pride rainbow.
Mars Petcare is supporting the partnership with in-store activation, including in and out of aisle displays, as well as digital advertising and PR activity.
The renewed partnership with Dreamies comes at a time when independent research has found that 78% of LGBTQ+ adults have experienced feelings of anxiety , with 69% admitting that this left them feeling lonely . The exclusive research also revealed that 52% of LGBTQ+ adults said that talking openly to their pet without fear of judgement would help their mental health.
Kay Brown, European brand director at Mars Petcare, said: "We are proud to be continuing our partnership with LGBT Foundation for a second year running. Together, we hope to provide the LGBTQ+ community with a source of vital care and support to help protect the mental health of those struggling.
"Our independent research reveals that the LGBTQ+ community feel their pets can support them, with 61% of LGBTQ+ adults believing that cuddling a pet would help them manage and mitigate some mental health challenges . This showcases the true power of pets and illustrates why Dreamies, the number one cat treats brand , is uniquely placed to help build this connection between cats and owners. While support can come in many forms, from friends, family and even felines, we hope that by promoting inclusion and diversity through our brand, we can encourage others to open up about mental health and 'Talk with Pride'."