Dr. Oetker is following up the launch of its Unicorn and Dinosaur sprinkles and wafers with a trio of cases to appeal to young bakers.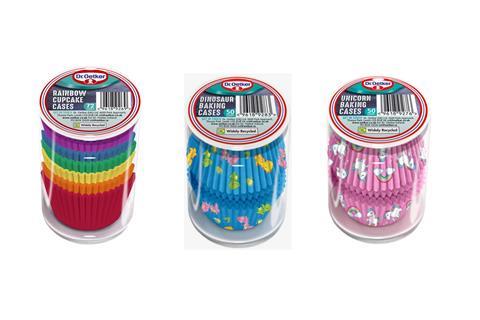 Unicorn baking cases and Dinosaur baking cases (rrp £1.35 each / sold in packs of 50) are designed to tie in with Dr. Oetker's current range and provide shoppers with everything they need to create themed cupcakes.
Dr. Oetker has also launched Rainbow cupcake cases (rrp £1.79 each, sold in packs of 72) to help those who want to add some colour to cakes for different events and occasions.
Jen Brown, head of marketing for cake & dessert at Dr. Oetker UK, commented: "Themed baking is hugely popular, particularly for children's parties and family baking, so we're excited to reveal our new baking cases. Dinosaur and unicorn baking are growing trends and our NPD launches this year aim to meet this consumer demand. Our Rainbow Cupcake Cases are extremely versatile and allow home bakers to create a variety of brightly coloured bakes."