Dr. Oetker has revealed the latest additions to its home baking sprinkles line-up: Rose Gold Blush Sprinkles and Mermaid Treasure Sprinkles.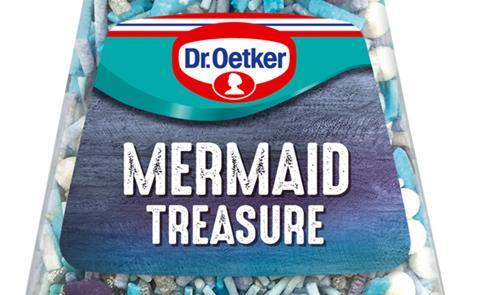 The new products follow the launch of the brand's Ultimate Sprinkles range in 2018, comprising of two skis: Unicorn Confetti and Glamour & Sparkle.
Dr. Oetker Rose Gold Blush Sprinkles (110g, 6 per case, rrp: £2.29) features a variety of different sized and shaped sprinkles in a rose gold colour.
The brand's Mermaid Treasure Sprinkles (115g, 6 per case, rrp: £2.29) contain blue, silver and purple sprinkles in a variety of shapes and sizes to help apply a mermaid-themed look to bakes.
The products can be sprinkled onto cupcakes or celebration cakes before buttercream or icing sets. Alternatively, they can be used as a topping for ice cream.
Jen Brown, head of marketing for cake & dessert at Dr. Oetker UK, commented: "Our Ultimate Sprinkles range has performed extremely well since launching last year and we wanted to add to the portfolio with some on-trend additions. Mermaid baking is a major emerging trend, so we expect the Mermaid Treasure Sprinkles to be a hit with home bakers who want to create impressive themed showstoppers.
"Rose gold is a popular colour that is emerging in home baking. Ideal for creating classy celebration cakes for both children and adults, we're confident our new Rose Gold Blush Sprinkles will be a hit!"
The Ultimate Sprinkles NPD is available to convenience stores and independent retailers now.