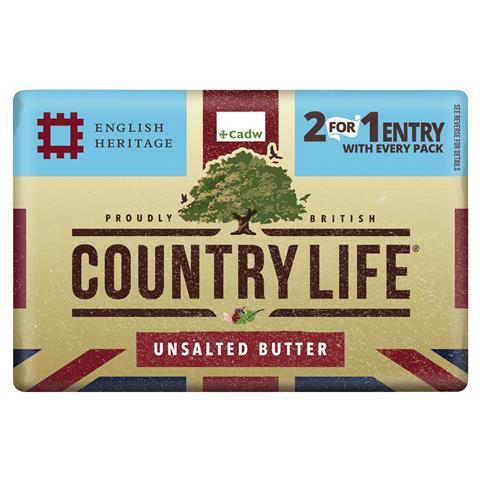 Saputo Dairy UK has announced a six-month extension of its Country Life partnership activity with English Heritage & the Welsh historic environment service, Cadw.
The partnership, launched in February 2019 and now in its third year, includes an exclusive '2 for 1 entry' offer across promotional packs of Country Life, granting shoppers a free entry with the purchase of a full price adult or senior ticket to eligible English Heritage & Cadw sites across England and Wales.
With Covid-19 related government guidance having forced many English Heritage and Cadw sites to close for extended periods in 2020 and early 2021, the on-pack promotion, originally due to end in March 2021, has been extended for a further six months. All '2 for 1' vouchers are now valid until 30 September 2021.
Country Life will also be the official supporter of English Heritage Members' Week, taking place in the week beginning 12 April 2021. Members' Week will involve a mix of ticketed on-site and online events to reward members for their loyalty. Country Life branding and messaging will feature as part of event communications to English Heritage Members, with an online article dedicated to the history of butter also available exclusively for members.
Marketing controller Emilie Grundy said: "Our partnership with English Heritage and Cadw has been hugely successful over the past two years and we're delighted to not only extend our offer to shoppers, but to be the official supporter of English Heritage Members' Week.
"The past year has been incredibly tough in ways we could never have imagined, and one of the impacts of restrictions has been the loss of freedom to visit wonderful sites and attractions such as those managed by English Heritage and Cadw. With ongoing uncertainty around overseas travel, UK-based tourism and sightseeing are expected to be top of mind for many Brits this year, so we want to give our loyal customers every opportunity to make the most of our '2 for 1 offer'."