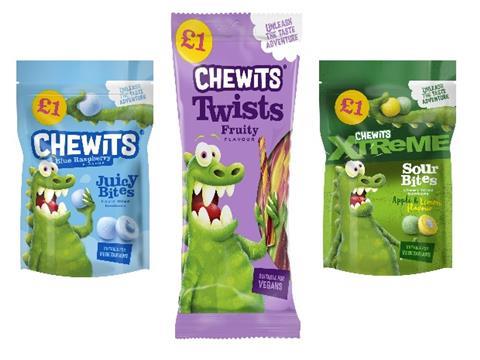 Chewits is expanding its range with the launch of four new products - Juicy Bites, Xtreme Sour Bites, Xtreme Sour Apple Laces and Fruity Twists.
Chewits Juicy Bites will be available in strawberry and blue raspberry flavours while the Xtreme Sour Bites are mini chewy bonbons in a mix of sour apple and lemon flavours.
Both Chewits' Juicy Bites and the Xtreme Sour Bites are suitable for vegetarians with no artificial colours and flavours and provided in shelf-ready 145g resealable, price-marked hanging pouches, RRP £1.
The bonbon UK market is worth over £7m and saw 5.7% year-on-year growth in the past 12 months (IRI Marketplace). Chewits is also looking to grow sales in the hanging bags category, which currently contributes to 60% of sales in the UK sugar confectionery market, growing 5% year on year, according to IRI Marketplace.
All of the new product ranges are available nationwide through wholesale, independent and convenience store channels only in 2020, with plans to expand into large grocery chains in 2021.
Brand mascot, Chewie the Chewitsauraus will also unleash the new taste adventures through a 'space-themed' national marketing campaign including organic and paid activity online, through social media and PR.
Cloetta UK brand manager Sarah McDermott said: "We are over the moon to bring these new products to market. This is our first innovation for many years and we feel these new sharing product formats from Chewits will add some excitement and innovation to these confectionery categories.
"With a strong heritage in the confectionery industry, Chewits has been the number one chew stick in the UK for many years. Now we feel the time is right to broaden our appeal, by expanding into new category segments and offering more products with our popular chewy texture and great range of fruity flavours."