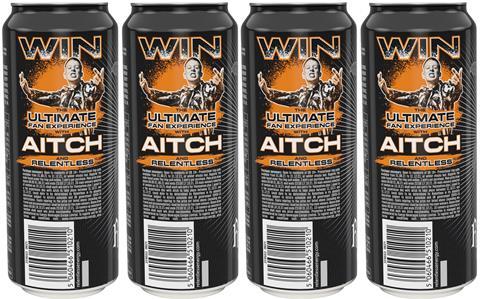 Coca-Cola Europacific Partners (CCEP) has unveiled new Relentless on-pack promotion in partnership with brand ambassador, rapper Aitch.
Running until December, promotional codes will be available across the Relentless range of 500ml cans and four can multi-packs, including the newly launched Relentless Zero Sugar variants.
For the chance to win, fans need to enter the unique codes under the ring pulls of promotional packs of Relentless on www.relentlessenergy.com/AITCHPROMO_22 to be entered into an online free prize draw. Ten lucky winners will get to enjoy a backstage experience with Aitch himself, whilst ten runners up will receive tickets to Aitch's UK album tour and exclusive Aitch merchandise, including a signed album.
To help retailers create theatre in-store, POS materials are available from My.CCEP.com from the middle of August. Relentless will also leverage its social media following to maximise awareness of its brand ambassador partnership with Aitch, throughout the promotional period and beyond.
The on-pack promotion follows the launch of the 'Aitch-S2' travel scheme at the beginning of July, which offers young people the chance to apply for funding to cover rail travel costs to events in different cities across the UK. This aims to give Gen-Z's the chance to get out of their hometowns and visit the cultural events that cities around the UK have to offer, for free.
The Aitch-S2 travel scheme runs until 26 August, with travel vouchers worth up to £100 allocated on a weekly basis, accessible via www.aitch-s2.com.
The latest on-pack promotion builds on Relentless's #WithoutLimits campaign and partnership with Aitch over the last year which has helped to grow the brand by 12% in value (Nielsen) to be worth £43m (ibid).
Pippa Collins, associate director commercial development at Coca-Cola Europacific Partners GB, said: "Partnering with one of the biggest UK rappers last year has really resonated with our fans and we expect our latest promotion to give the brand another boost as it continues on its upward trajectory.
"Our energy drinks brands have continued to grow ahead of the sector over the past 12 months and now enjoy 33% share of the market [Nielsen].
"Combined, we're confident that the latest Relentless on-pack promotion and Aitch-S2 travel scheme campaign will continue to drive Gen-Z fan and shopper engagement and in turn sales for retailers."