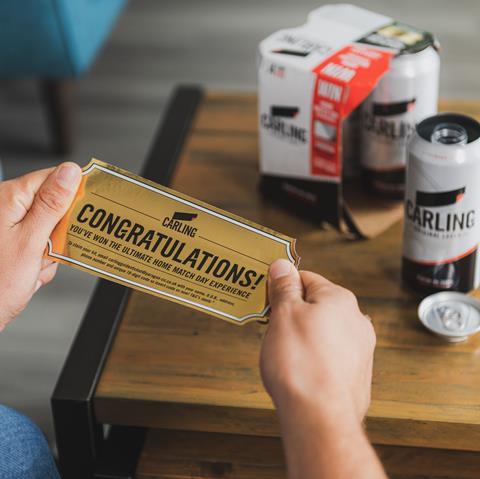 Carling has launched a new instant-win giveaway ahead of the new domestic season kicking off later this summer.
Twenty golden tickets will be hidden in special Carling cans, inside promotional four-can multipacks across retailers nationwide. The cans will still look and weigh the same as normal cans, but the unique mechanic means that instead of having liquid inside, the top of the can will easily twist off to reveal a golden ticket inside for an instant surprise.
Winners will be able to redeem the tickets for an epic at home match day experience worth more than £4,500, which will contain everything a football fan will need to enjoy the season ahead in comfort and style. This includes a 65-inch Smart TV, soundbar, TV Sports Pass, £1500 sofa voucher, and £200 takeaway voucher. On top of this, they will receive a one-year supply of Carling, a Carling football table, Carling beer fridge & Carling glassware four pack for the ultimate football watching experience best shared with mates.
The promotion will run for 20 weeks and give shoppers the chance to win a prize every week throughout the remainder of 2021.
Off-trade sales director at Molson Coors Beverage Company Kevin Fawell said: "After a brilliant summer of football, anticipation is building for the new season and next year's tournament like never before. Our new promotion captures that sense of excitement with an innovative mechanic that will keep shoppers guessing until the moment they open the can and provide an instant moment of delight for the winners.
"There's nothing else quite like our Golden Ticket competition on the market and the prize itself is a one-of-a-kind package that we're sure consumers will love. We're confident this will help maintain the momentum of the nation's football fever into the new season and beyond."