Campo Viejo is celebrating the launch of its sixth Reserva Art Series with a new limited edition bottle.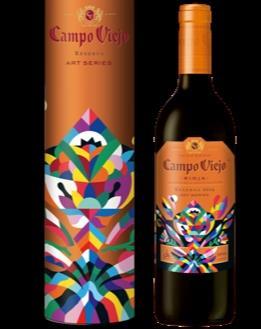 The Campo Viejo Reserva Art Series, which features aromas of cherries, plums and blackberries with cloves, pepper, vanilla and coconut, is designed to credit the craftsmanship of the Campo Viejo winemakers.
Toni Ingram, head of marketing at brand owner Pernod Ricard UK, said: "We are thrilled to launch another outstanding design for the sixth year of the annual Reserva Art Series. Campo Viejo currently holds the number one red wine SKU in the UK, and is the biggest Spanish brand on the market accounting for 15.8% of Spanish Wine sales and contributing £99m to the UK wine category.
"Previous Reserva Art Series have seen a 30% uplift in sales, so we have high hopes for this year. The vibrant and colourful designs will create great stand-out on shelf and will increase desirability of an already hugely popular wine."
The new Campo Viejo bottle is available for a limited time for all off-trade retailers, with an rrp £12.95.