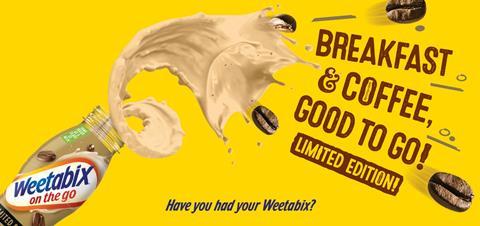 Weetabix On The Go has launched a new Caffé Latte variant. The limited-edition flavour will be available in convenience and wholesale from March 2021.
The breakfast drink contains 37.5mg/100ml of caffeine and will be launched with a £1 PMP as part of the 'Strikethrough' programme which aims to get retailers to restock the On The Go range and build distribution. The field support campaign offers a series of direct-to-store packages and wholesale vouchers, as well as providing instore advice to grow awareness of the various breakfast drink mission occasions.
General manager at Weetabix On The Go Emma Varlow said: "Weetabix On The Go is the leading brand in the category with a 60% share of the breakfast drinks sector.
"We're confident that there is a huge opportunity in the months ahead for breakfast drinks, both at-home to suit our busy mornings or whilst on the move when things open-up again. Our new Caffé Latte flavour offers a convenient breakfast with an added boost of caffeine to help Brits start their morning off right.
"Coffee is now the second most popular flavour of flavoured milk and has a value of £34.5m with growth of 18.1% in the last year . We want to offer shoppers a product that delivers on taste and meets the demand of the growing sector, which is why we'll continue to invest in digital media and shopper activity in the months ahead to amplify this launch. Last year we also redesigned our bottles so the bottle, cap and sleeve can now all be recycled together."