Cadbury is challenging consumers to vote to keep one of three limited edition Dairy Milk bars, created by the finalists of last year's Cadbury Inventor competition.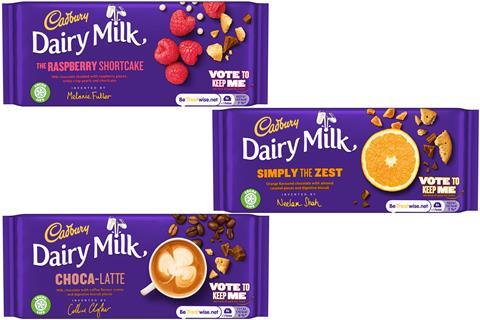 Callum's Dairy Milk Choca-Latte, Neelam's Dairy Milk Simply The Zest, and Melanie's Dairy Milk The Raspberry Shortcake will hit shelves in the UK and Ireland this week.
Shoppers are being encouraged to vote for the bar they want to become the newest permanent addition to the Cadbury Dairy Milk range, alongside the brand's existing portfolio of Caramel, Fruit & Nut and Whole Nut bar.
The roll out of the special edition variants follows the launch of Cadbury's Inventor campaign last year, which gave consumers the chance to create their own Cadbury Dairy Milk bar.
Entrants were tasked with naming their bar, which could contain up to three added ingredients, and explaining what inspired their creation.
The three finalists: Callum, Neelam and Melanie, have since travelled to the Cadbury Innovation Kitchen in Bournville where they worked with chocolate experts to experiment with ingredients and help launch their creations.
Lyndsey Homer, junior brand manager at Cadbury, said: "We couldn't be more excited to share these new delicious Cadbury Dairy Milk flavours with customers and their shoppers. We've absolutely loved working with Callum, Melanie and Neelam to make their bars a reality. Retailers should stock up on the three bars now and encourage their shoppers to vote for their favourites."
The three limited edition 122.5g bars are available now with an rrp of £1.49 each. Consumers can vote for their favourite at www.cadburyinventor.com. The winning bar will be announced in September.