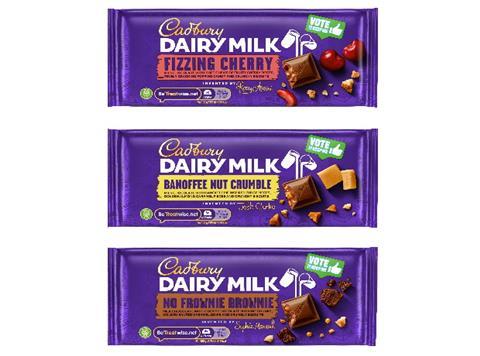 Cadbury has unveiled three new limited-edition 110g Cadbury Dairy Milk bars (rrp £1.49), created by this year's Cadbury Inventor finalists. Introducing the all-new flavour variants:
Roxy's Cadbury Dairy Milk Fizzing Cherry, comprising: milk chocolate with soft chewy cherry pieces, popping candy and biscuits.
Josh's Cadbury Dairy Milk Banoffee Nut Crumble, comprising: milk chocolate with banoffee pie inspired fudge pieces, almond caramel pieces and biscuits.
Sophie's Cadbury Dairy Milk No Frownie Brownie, comprising: milk chocolate, gooey chocolate brownie chunks, salted caramel chips and biscuits.
The three new limited-edition bars are being put to the public vote, going head-to-head to be crowned the nation's favourite and the latest addition to the Cadbury Dairy Milk range. Shoppers will be able to vote on the www.cadburyinventor.com website until 5th September.
The brand is asking shoppers to 'Be The Judge' of this year's new Inventor bars and make the final verdict of which flavour will return to shelves next year. To celebrate the launch, Cadbury has partnered with radio presenter Jordan North to teach the nation how to judge like a pro and put their new-found judging skills to the test.
Pippa Rodgers, Cadbury Tablets brand manager, said: "We know the Cadbury Inventor competition is a shopper favourite because it allows for delicious new ingredients and flavours to be explored and tasted, and this year has really set the bar high. Together with Josh, Roxy and Sophie, we couldn't be more excited to share the three delicious Cadbury Dairy Milk flavours with the nation. It is time for us to put it to our experts, our shoppers, to 'Be The Judge' and decide what bar is worthy of returning to shelves next year!"