Buxton Natural Mineral Water has launched PLANT+WATER by Buxton - a plant polyphenol infused water range.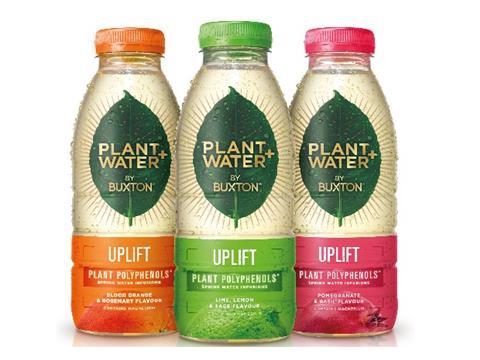 The new range, developed in response to the growing trend around health and wellbeing, has been created with a blend of spring water, plant polyphenols - extracted from green coffee beans - magnesium and natural fruit and herb.
PLANT+ WATER by Buxton is available in three flavours: Lemon, Lime & Sage, Pomegranate & Basil and Blood Orange & Rosemary, with an rrp of £1.79 per 500ml bottle.
As part of the brand's commitment that all bottles will be made from 100% recycled PET by the end of 2021, PLANT+ WATER by Buxton will be launched in recyclable bottles, made from 51% recycled PET.
Head of marketing for Nestlé Waters Warren Plaskett said: "The team at Nestlé Research began exploring the power of plants around three years ago, predicting the growing interest and movement towards plant-based diets. At BUXTON®, we were looking at new ways to inspire our consumers using naturally derived ingredients that are good to drink. We saw a huge opportunity in this research into plants and accelerated this insight to create a beverage that provides more than just thirst-quenching refreshment. Our plant-infused spring water, PLANT+ WATER by Buxton, is part of an exciting trend that recognises the benefits of plants, combined with magnesium*, to provide hydration with a gentle uplift to support the active lifestyle of our consumers."
Health is just one of the key trends discussed in our latest soft drinks report.