UK snack brand Metcalfe's has announced a new sharing format for its recently launched Corn Chips line-up.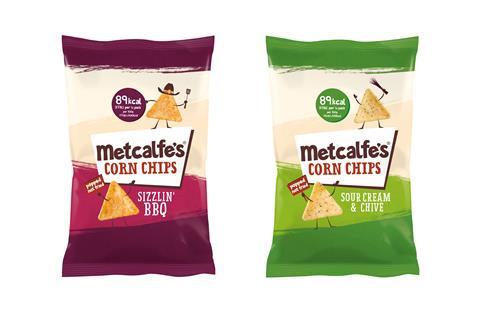 Available now, the new larger 85g packs carry an rrp of £1.49 and are available in two variants: Sizzlin' BBQ and new flavour Sour Cream & Chive.
All of Metcalfe's Corn Chips are popped, not fried, with 64% less fat than average ready salted crisps and 89 cals per ¼ pack serving. Each of the bigger bags are also suitable for vegetarians and celliacs and are designed for in-home snacking.
The range joins the wider Metcalfe's snacking portfolio of popcorn and ricecakes and will be supported with a campaign across the brand's social media channels.
Samantha Garnham, senior brand manager at Metcalfe's, said: "This savoury launch has extended Metcalfe's' activity in the wider snacking market and we are thrilled to be able to offer an option in the sharing format for the first time, all thanks to our dedication to popping!"