JCS Fish has given its smoked fish products a new pack design to improve the look of its oak smoked salmon and oak smoked sea trout.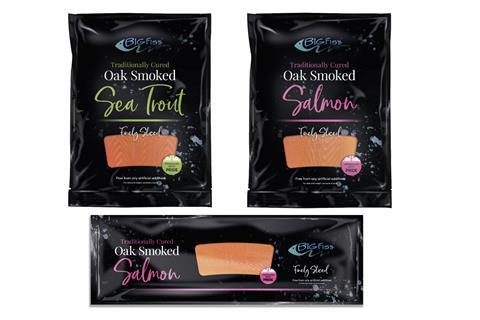 The redesign includes a reduction in the amount of plastic used in the JCS smoked line-up's packaging.
Jack Coulbeck, commercial manager for the brand, explained: "The redesign of our core smoked range marks the first step in our project to improve packaging across the BigFish range.
"As well as updating visual appeal, we are planning new formats which will improve the environmental friendliness of our packaging, with less waste and increased recyclability. In this case, we have reduced the pack dimensions by about 10% to cut the use of plastic film."
Big Fish's new smoked salmon and sea trout products are available in two packs sizes, either chilled or frozen. All variants are traditionally cured and D-sliced for convenience.
A 100g pack of salmon or trout carries an rrp of £4.95 for fresh or rrp £4.49 for frozen, while a 200g format boosts an rrp of £7.95 for fresh and rrp £7.49 for frozen.
In additon to the range updates, a new whole smoked salmon side has also been added to the JCS Fish portfolio and comes pre-sliced with a minimum weight of 900g (rrp £28.50 / fresh or rrp £27 / frozen).