Barr Soft Drinks is aiming to give Scottish retailers a seasonal sales boost this Christmas with the rollout of its limited-edition Irn-Bru Crimbo Juice.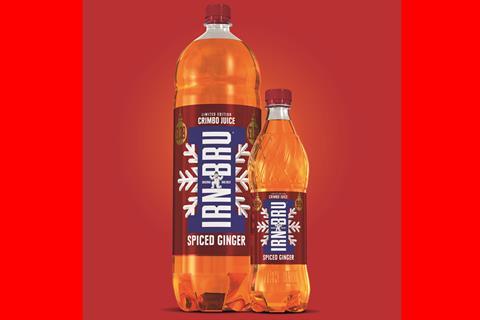 Available in plain or pricemarked 500ml and 2-litre bottles (99p and £1.39 respectively), the Crimbo Juice features a spiced ginger flavour, made using a festive mix of regular Irn-Bru with ginger, clove and cinnamon.
The Scotland-only launch will be supported in-store by POS kits for convenience stores. A national consumer PR and social media programme will also promote the Christmas variant over the next few months.
Commenting on the launch, Adrian Troy, marketing director at Barr Soft Drinks, said: "Timely NPD of this kind delivers premium value, creates a feel-good factor and opens up profitable new consumption occasions.
"In the last year, limited edition flavours have added almost £190m to the soft drinks category (IRI Marketplace, Value Sales, MAT to 19.07.19, Total Coverage) and we are confident that Irn-Bru Crimbo Juice will add excitement to the soft drinks fixture and incremental retailers sales during the festive period."