Alternative milk brand M+lkplus is rolling out its new grab-and-go drinks range to independent convenience stores.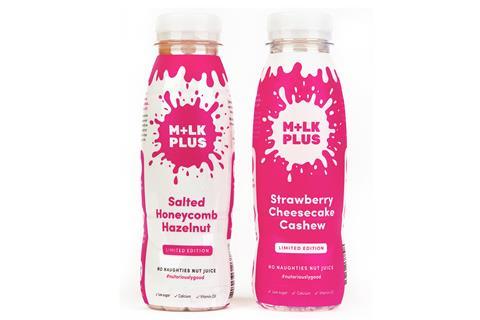 Available in two flavours: salted honeycomb hazelnut and strawberry cheesecake cashew, the new nut milks are fortified with Vitamin D3 and calcium.
The range is designed to shake up the milk alternative sector and all M+lkplus products are dairy free and vegan society approved, with high nut content and no added sugar.
Sold in 330ml single bottles (rrp £1.99) or multi-packs of four (rrp £11.00), all flavours have a chilled shelf life of four months and are made from recyclable packaging.
Camilla Ainsworth, The Apprentice 2018 runner-up and founder of M+lkplus, commented: ''I wanted to make nut milk alternatives more easily accessible starting with the to go sector, injecting variety and personality to the existing offering. We have created two competitively priced flavours that have mass market appeal, that not only taste amazing, but are full of vitamins and nutrients useful for people who are always on the go like myself.
"M+lkplus is an innovative and versatile concept, and we will be launching new products regularly to keep ahead of the curve. Whether you have intolerances or simply want to try an exciting, well-balanced drink that is easily accessible, the new range offers something for everyone''