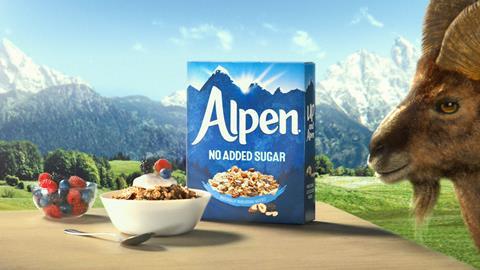 Alpen is celebrating its 50th birthday with a brand relaunch.
The £2million investment includes a new TV creative, pack design and website as part of its biggest campaign in recent years – 'Up & Alpen'.
Available now, the new-look packs will feature an alpine design, product shots and call out its natural health credentials. A social media campaign will run across the brand's Instagram and Facebook pages, encouraging the UK public to 'get up, get out there and get to it' with Alpen. In addition, a refreshed consumer-facing website showcases Alpen's Swiss roots and contains recipes ideas.
Head of brand at Alpen Helena Blincow said: "Here at Alpen, we've brought uplifting mornings to adventurous breakfast-loving Brits for 50 years with our delicious portfolio. We have a 31% share of the muesli category and have grown by +4% year on year - that's why we're the UK's original and number one branded muesli!"
"In the last year, 5.6 million UK households have purchased Alpen muesli or bars, and we're now worth over £50 million annually. As we reach such a big milestone, there couldn't be a better time to revitalise the brand and accelerate its popularity even further with a substantial investment.
"Our bold new design and 'Up & Alpen' campaign will launch just ahead of traditionally busy summer months for the category, raising awareness of the portfolio and bringing more new and existing customers to the aisle."