Activia is showing its commitment to promoting gut health across the UK with the rollout of its new range of live culture smoothies.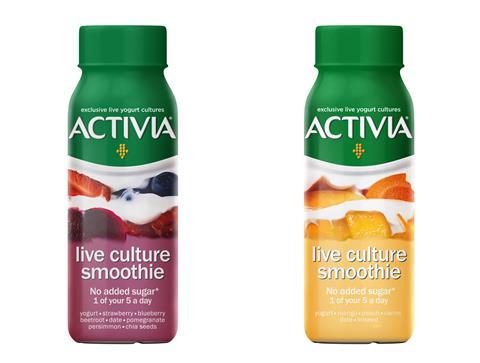 Made with billions of healthy bacteria cultures, the drinks are being marketed as a good source of calcium, protein and fibre. Each 250ml bottle contains no added sugar and counts as one of your five a day (rrp £2.09).
Available in two flavours: orange fruit & veg (a blend of Activia yogurt with mango, peach, carrot, date & linseed); and red fruit & veg (a blend of Activia yogurt with strawberry, blueberry, beetroot, pomegranate, persimmon & chia seeds), the live culture range will launch into Nisa and Spar stores in September and will be made available to independent retailers later this month.
Commenting on the launch, Ben Kind, Activia brand manager at Danone, said: "With 30 years of experience, and our passion for happy guts, we're really excited to launch our new live culture smoothies which contain all the goodness of our Activia yogurt, along with a delicious portion of fruit & veg.
"We are continually adapting our range of fermented products to ensure that we are meeting evolving consumer demands. We know that younger consumers in particular want both nutrition and convenience - rather than having to choose between one or the other. Our live culture smoothies will launch in a convenient bottle format; ensuring that this delicious and nutritious* product can be enjoyed on-the-go."
Kind added: "This is big step change for Activia, entering into a new category and shelf position. We're confident our brand credentials and fantastic new range will open up great potential to leverage the growth of fermented products."
The introduction of Activia's live culture smoothies will be supported by a nationwide media campaign with a focus on digital, influencer and shopper activation.